Reineke Fuchs
The timeless fable Reineke Fuchs by Johann Wolfgang von Goethe re-imagined for children's choir, ensemble (vibraphone, percussion, clarinet, piano & cello) and eight opera singers. Commissioned by the Opernwertstatt am Rhein. The opera premiered at the Schlosstheater, Schwetzingen, a splendid stage for the opening night.
As a perpetually curious composer and musician I am excited by the children's opera Reineke Fuchs, particularly in the concept of composing music that children can enjoy; engaging both in the individual songs and the miniature opera as a whole.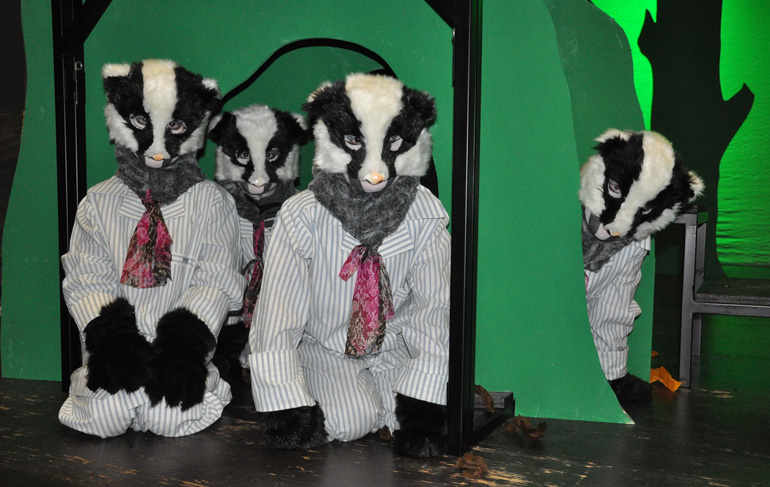 Throughout the performance allusions are made in the voices to traditional operatic techniques and yet the musical style is eclectic, drawing inspiration from my work in pop & jazz and from my experience as a theatrical composer and performer. The music's rhythm, sound structure and resulting interactions between musicians and singers are characterized by a transparent and direct compositional style; each theme has its own "hit-quality" complete with an individual and distinctive atmosphere: "Verschwörerlied", "Chor der Katzen", "Barkarole der Gierigen". The music complements and defines the characters in the opera creating for them a coherent setting in which they can confidently express themselves both in their appearance and their actions: "Arie der Henne Kratzfuss", "Streitduett Isegrim und Reineke", "Kalas Hit".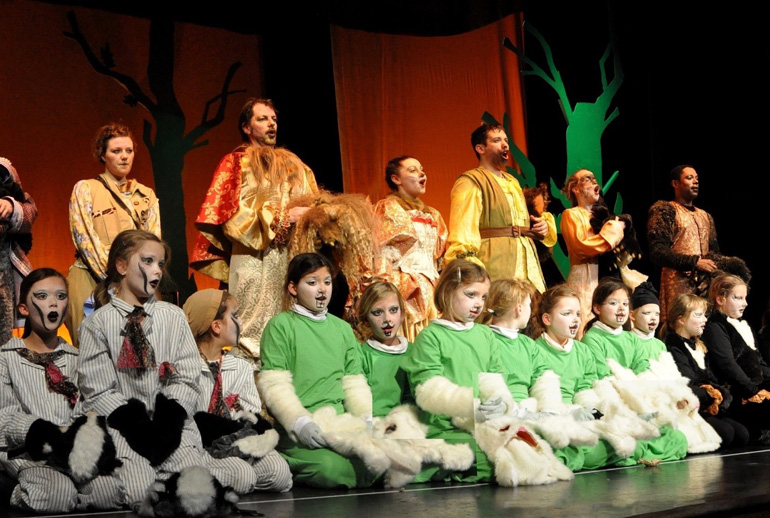 Reineke Fuchs: Stephanie Woodling / Annette Hörle, Wolf Isegrim: Peter Schoenaker / Mauricio Virgens / König Nobel: Andrew Young, Kater Hinze: Ruth Volpert / Cornelia Haslbauer, Bär Braun: Patricio Ramos Pereira / Peter Kellner, Dachs Grimbart: Jürgen Hahn, Kala Känguru: Dorothee Thömmes / Annette Regnitter, Henne Kratzfuß & Königin Fière: Diana Petrov / Katharina Ajyba, Annette Regnitter

Musikalische Leitung & Piano: Irina Benkowski, Klarinette/Saxophon: Stefan Karl Schmid / Leonhard Huhn, Cello: Jeehee Kim / Joel Wieck, Schlagwerk/Vibraphon: Timafei Birukou

Regie: Tracy E. Lord, Bühnenbild: Thomas Pfau, Kostümbild & Tiermasken: Claudia Radowski, Licht: Garlef Kessler, Maske: Irene Wild,
Plakat: Gabi Erdmann
Menagerie of plush animals
The task of musical composition was in the capable hands of composer Ulrike Haage and the Goethe text was ably and sensitively edited by the librettist Sascha von Donat. The hand crafted forest sets the backdrop for the playful yet ernest staging by director Tracy E. Lord.
All above must have dug deep into their own childhood memories in preparing this rich production which opens to an exotic menagerie of plush animals who arrive gossiping, arguing and singing at the court of king nobel. The musical layers multiply as the characters draw us into the exciting story. The songs and choral pieces throughout exhibit a sing-song hit quality always complimented by great emotional depth. They shape the perception of the drama and give the overall structure strong purchase and momentum.
Ulrike Haage's compositional style often affords the musicians opportunity to exhibit their unique potential and individual musicality. The musicians themselves, resplendent in rococo style dress, are placed on stage never failing to beguile the ear with a blend of symphonic and chamber music styles complimenting the action as it unfolds. Overall the music composition succeeds in leading the audience effortlessly through the myriad of emotions expressed in the narrative. A wonderful staging for children and adults alike!
Maria Herlo, Mannheimer Morgen 28.10.2011
The shows so far:
26.11.2011 Rokokotheater Schwetzingen
27.11.2011 Bürgerhaus Hürth
04.12.2011 Kineksbond Mamer / Luxemburg
31.01.2012 Stadttheater Minden
11.03.2012 Parktheater Iserlohn (2x)
06.05.2012 Theater der Stadt Kleve
25.09.2012 Theater Marl
26.09.2012 Theater Marl
26.10.2012 Paderhalle Paderborn
28.11.2012 Bürgerzentrum Mittelmühle, Miltenberg
15.12.2012 Theater Bottrop
24.02.2013 Theater der Stadt Diepholz
22.12.2013 Stadttheater Rüsselsheim