Stadt Klang Vision
As Artist-in-Residence 2013 at the Leuphana University Lüneburg Ulrike Haage is starting the project City Sound Vision; decryption_commentary_transformation. The project is concerned with qualities of visual sounds [the eye hears] and sound images [the ear imagines] – characteristic of Lüneburg – and their transformation into a "walk-in-concert" including the audio-video trilogy KLANG SICHTEN.
Taking close ups of "natural" sound-installations in the monastery Lüne, Lüneburg.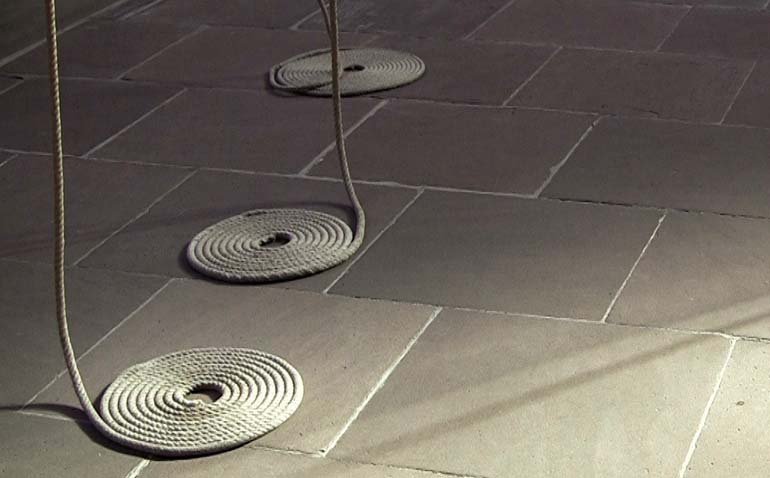 "There are sounds that belong to the world and to the universe, which accommodates us regardless of our human existence or our attempt to describe them and infuse them with meaning. They resonate within us without intervention, because they have surrounded us for ages. We respond without delay to the sudden rustle in the undergrowth, the emerging wind, the unfamiliar cry of an unknown animal, the roaring swell of a river after cloudburst, the approaching sound of thunder, we mindlessly listening to the polyphonic singing of the birds. There are the sounds, signals, compositions, and noises that invented the human in addition to the prevailing soundscapes. Yet we respond without reaction to the roar of the car engine, all types of sirens, the muffled foghorn, the rumble of the aircraft, we move cyclically through the music and find the switch to turn off the air conditioning in our hotel, we listen to the noise of a city, of a train, automatically turning in the direction of the uproar…"
The audio – video installation "Between sound and silence" is created. A sound homage to the monastery Lüne.
BETWEEN SOUND AND SILENCE (Audio/Video Installation, 2013)
Ulrike Haage, camera, composition and concept
Philipp Fiedler, sound and mix
Dian Zagorchinov, film editing
Alexandra Waligorski, production assistant
Parallel the seminar Mizu no oto – sound of water was held at the Leuphana University  in Lüneburg [for Master-students only]: Concentration on the ear as a sensory organ, awareness of soundscapes around us, enjoying distinguished sound works from early years to contemporary works and exercising the own creativity.
In June 2014 we show the final Film Trilogy KLANG sichten in the monastery Lüne. Thank you to the LAP | Leuphana University Lüneburg and all great guests and supporters at this event. The film trilogy will now remain in the permanent collection of the monastery Lüne.