June News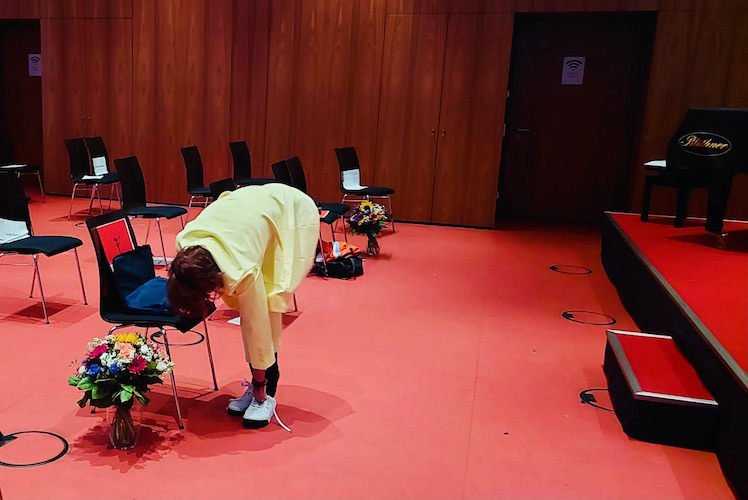 June is really exciting. On 16 June there will be the Günter Eich Award ceremony in Leipzig. A fulminant evening with intelligent speeches, great panels and a mini-concert on the grand piano of the Villa Ida. And on 17 June I'll be playing a Solo piano concert at A Trane Berlin in honour of my booker Constanze Schliebs, who is celebrating the 25th anniversary of the Asianetwork agency. This was no less fantastic an evening either!
There are also two lovely radio premieres.  On 5 June, Deutschlandfunk Kultur will broadcast Frieda Paris' homage to Friederike Mayröcker Herzbefellt. Ein Nachrufen. A lyrical obituary. Wonderfully spoken by Marina Frenk and Lisa Hrdina and delicately musically staged.  "Readers must resolutely oppose the death of poets!" says Frieda about her own radio play. On 11 June, Jan Wagner curates the programme Book of Songs on Deutschlandfunk, in which radio artists stage poetry from Europe. I contribute my musical realisation of the wonderful poem Dutluk by the Turkish poet Gonca Özmen. As I love to work with different languages, I am using the original Turkish version spoken bei Gonça and the german version spoken by my favourites Ken Yamamoto and Veronika Bachfischer (translation by Ulrike Almut Sandig). Enjoy the radio plays!
My heartfelt thanks go to the jury, the Medienstiftung Leipzig & of cause all my allies, the actors, the sound engineers, the radio editors and dramaturges,without whom I would not be able to realise my visions!
Excerpts from the Günter Eich Prize laudation: "For many years, Ulrike Haage has been writing, directing and composing radio plays that advance the medium of radio in an impressive way and constantly question and productively challenge our listening habits," says Stephan Seeger, Executive Director of the Media Foundation: "Haage's works are unmistakable in their signature and have long since formed a position of their own in the German-language radio play landscape. They reach a large audience to whom the positions of a literary and artistic avant-garde would otherwise remain closed. I would like to thank the jury for their excellent choice and warmly congratulate the future prize-winner."
The jury, which included jury chairman Thomas Fritz, Diemut Roehter (specialist editor for media topics at epd medien) and Wolfgang Schiffer (long-time head of radio drama, radio feature and literature at WDR), explained their choice of the prize winner: "By using her multifaceted gifts and interests to create radio plays that prove themselves time and again to be a fertile medium for her search for the feminine element in the arts as well as in our ways of life, Ulrike Haage becomes a pioneering radio playwright whose extensive life's work is honoured with the 'Günter Eich Prize 2022'. "