September News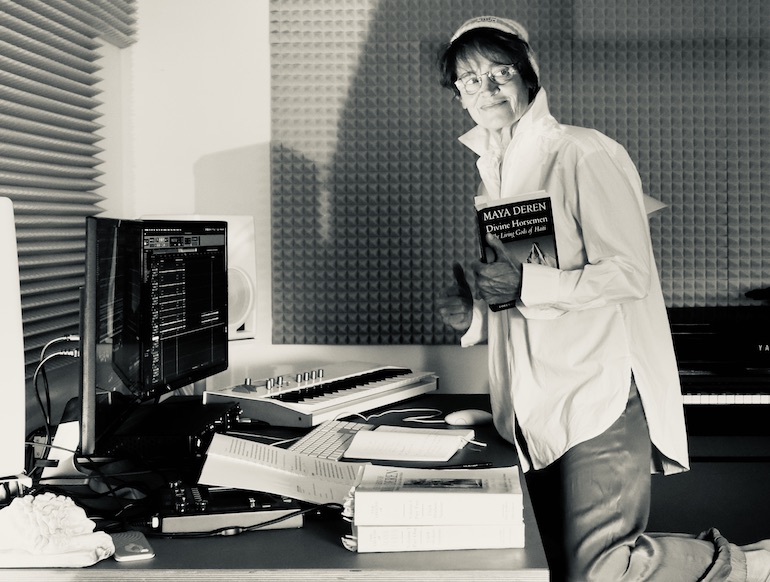 September brings the premiere of my latest radio play on the artist and filmmaker Maya Deren: "Dear alter Ego".Maya Deren's poems and diary notes testify to a strong desire for freedom and physical expression outside of any norms, which of course particularly inspired me as an artist. When I was a student, I already studied the English books on and by Maya Deren, an iconic experimental filmmaker from the 1940s and 1950s in the American avant-garde scene. Full of letters, essays, interviews with her companions and friends, in other words, full of original sounds, these readings provided a wonderful source for my radio play fantasy.
The manuscript is built as a montage of texts that creates fictional dialogues and takes up film shooting days or scripts described by Deren and stages them. I wrote the manuscript like a screenplay in 4 episodes with a prologue and epilogue. To accompany the music recordings, we played their films on monitors to improvise our own sound world to go with them. A child's cello, a Wurlitzer piano, the melodica, a celesta, a grand piano: all the instruments pick up other figures, shadows or reflections in the films. My old wooden metronome also plays a role, as it appears as a tempo indication in her script notes. On the grand piano and celesta, again, it's more about the deeper space behind the thoughts in her letters to the alter ego, which act as a thread throughout the radio play. Her love of voodoo also appears in varying motifs.
"My work is more about exploring the medium of film than about achieving a preconceived goal." This is how film theorist and pioneer, Maya Deren, describes her drive. As a student of literature in 1940s New York, she – who had fled Ukraine with her family to the USA in 1922 as Elenora Derenkovskaya – discovered her love for the fledgling medium and was soon shooting, writing and producing films on a shoestring budget that are still considered milestones of experimental film today. Radio playwright Ulrike Haage approaches Maya Deren through notes, letters, essays, interviews. (BR2 press text)
Our radio play features Marina Frenk (Maya Deren), Martina Gedeck (Anäis Nin), Robert Stadlober (Sascha Hammid et al), and Valéry Tscheplanowa. Thank you to Martin Offik, Jonas Fehrenberg and Peter Avar for "Ton und Technik". Once again it was a great pleasure to work with all of you.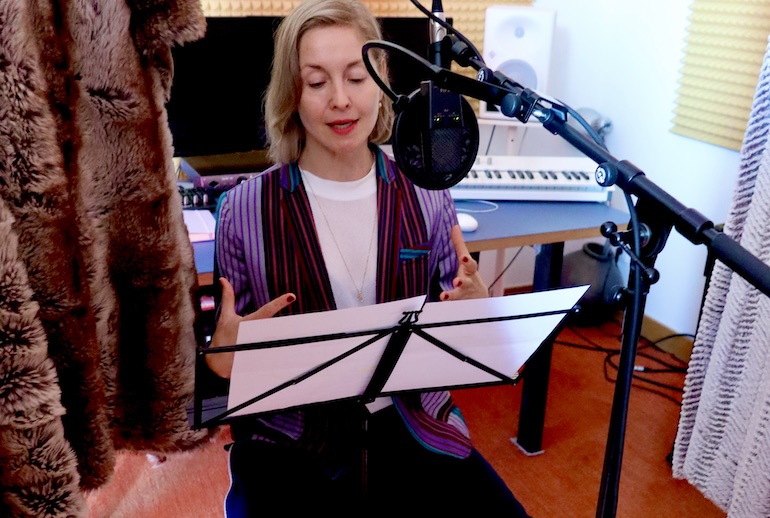 Valéry Tscheplanowa (2023, in my studio)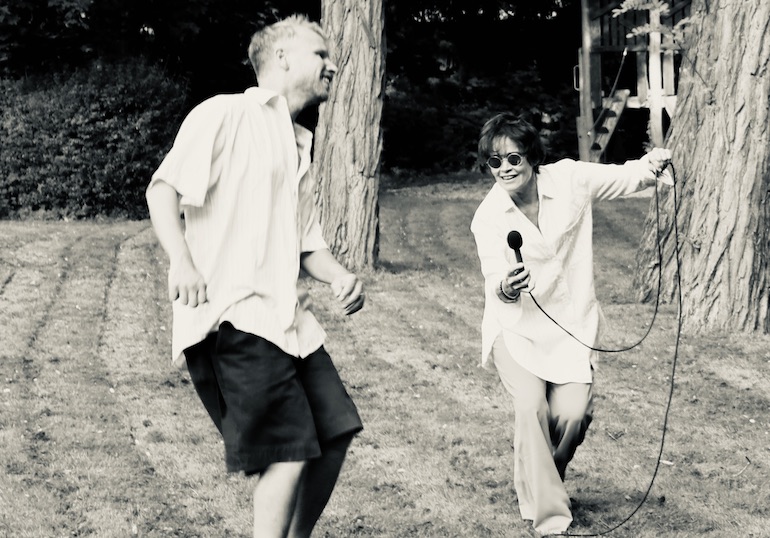 Robert Stadlober in the role of the dancer Frank Westwood (2023, in our garden)